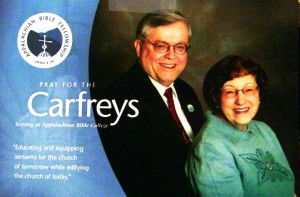 Grace Bible Church partners with Dr. Dan Carfrey. He serves on the faculty of the Appalachian Bible College in Bradley, West Virginia.
Dan and Shirley Carfrey came to the Greater Fort Campbell area to minister in the summer of 1980 upon graduation from Dallas Theological Seminary.   Dan met Shirley in eastern Kentucky where he had previously pastored prior to serving in the U.S. Army as a Chaplain's Assistant and studies at Dallas Seminary.
Grace Bible Church was started in June of 1981 in a small shoe store owned and operated by Bob Davis.  Twelve adults were present for the first service.   The church relocated to a small bank on Madison Street, and then a store front building on Franklin Street before moving to its present location.  The church was composed primarily of families on active duty at Fort Campbell, so the membership changed over the years as soldiers were reassigned duty elsewhere.   While beginning the church ministry in Clarksville, the Carfreys were appointed missionary pastors under the direction of the I.F.C.A. ministry, an independent fundamental organization of churches and pastors.
In the summer of 1991 the Carfreys were invited to join the faculty of Appalachian Bible College, a small Bible College in West Virginia and a member of the national organization of Home Missionaries.  They were accepted on missionary status and have served there since that time.  Dan Carfrey served for sixteen years as Vice President for Student Services.  During that time Dan served on the Bible faculty and taught all of the Pastoral courses.  He continues to do so.  Shirley served sixteen years as well as Director of Financial Aid.
Dan Carfrey has continued to train young men for the pastoral ministry and is invited on many occasions to preach Bible conferences, prophetic conferences, revival meetings, as well as fill in the pulpits for pastors throughout the region of West Virginia and surrounding states.  He and Mrs. Carfrey just returned recently from a missions trip to Hungary, where Dan taught through the book of Hebrews for the Word of Life Bible Institute there.    There were over fifty students from the countries of Hungary, Romania, Holland, the Ukraine, Uganda Africa, Brazil, Canada, and the United States. He ministered in the Ukraine this past summer 2011.
The Carfreys consider it to be an honor to be one of the missionaries for Grace Bible Church, a ministry close to their hearts for obvious reasons.