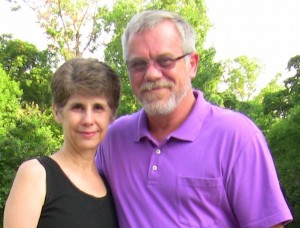 Grace Bible Church partners with Jeff and Lou Ann Hawkins and their work with Hope Builders Ministries in Zambia and staff in the USA. They officially joined HBM in September 2007. Jeff oversees the ministry in Zambia and helps raise the support needed there.
Jeff and Lou Ann first came to GBC in July 1985 with their four children (Joseph, Luke, Grace and Mary Beth). In 1987 Jeff returned to Southeastern Bible College and finished a BA degree in pastoral theology. On October 1, 1989 Grace Bible Church commissioned Jeff and Lou Ann to the Gospel Ministry and they started church planting in Bowling Green, KY. In 1995 Jeff and Lou Ann began ministry in the Appalachian mountains of Kentucky near Hazard serving as pastor of two churches over the next 13 years.
In May 2008 Jeff and Lou Ann returned to Clarksville and the Grace Bible Church. They are the proud grandparents of 5 boys and 5 girls.
You can read more of Jeff and Lou Ann's story on Facebook and on their website, HIMAfrica.